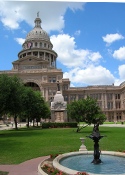 Austin is the place to be when it comes to business tech. Just last year, WalletHub ranked the southern town as the fourth-best city to start a business in the U.S. In addition to becoming a headline-maker for its tech and overall charm, Texas snagged the top spot in a study of the best states for female entrepreneurs.
Austin is becoming such a hot commodity in the tech space that the city has been nicknamed "Silicon Hills." Apple is expanding its bet on Austin with plans to build a brand-new $1 billion campus with the capacity for 15,000 employees. It's clear that Austin, Texas is the perfect city to build a career.
Accelebrate's Austin-based Angular training courses are extensive, hands-on, and instructor-led. Our sessions give each attendee the skills needed to use Angular to facilitate the development of single-page web applications using modern design patterns and best practices. Our Angular training courses are taught by expert instructors and can be delivered at your site or online for your team of three or more students. In addition, our classes can be customized to meet the goals and level of expertise of your group. In addition, some courses are available as live, online classes for individuals who are studying outside of Austin or even the United States.